A totally new plant management
What is possible with SunSniffer?
Key Performance Indicators (KPIs)
SunSniffer delivers Key Performance Indicators like soiling, shading, underperforming, degradation. Each category displays the total amount of affected modules, the spread of their affection and their localization within the plant.
Additionally, we show you how much profit can be gained when the proposed changes are made (potential improvements).
We summarize losses into different loss classes and assign each module to its class: by how much % is its production reduced? All modules with the same loss range are summed up into one class, be it 10 or 10 thousand modules. SunSniffer is totally scalable, but still looks at each single module.
Any exchange activity can be bundled and is facilitated tremendously.
Knowing that and which modules are broken is only the first step. In the section Fault Management you can administer your services on the plant, including documentation and incident tracking.
What will the exchange service cost, and how much would I lose if I don't act? SunSniffer can tell you exactly.
All the benefits for a single plant apply equally to a portfolio of plants. Manage as much plants as needed, with the same information depth of a single plant.
Try it out: order a test package and start with equipping one string with SunSniffer. Further strings can be equipped any time.

Performance Evaluation Package
contains (for one string):
High Accuracy sensors
High Accuracy StringReader
Gateway Plus
Modem
Pyranometer
Backsheet temperature measurement device
API access

And delivers:
→ 30-second-interval module data
→ 10-second-interval irradiation data
→ Condition-based monitoring through Artificial Intelligence
→ Live STC status
→ Automated ROI calculation
→ Top down yield calculations
Order
Add-On Packages
for further strings.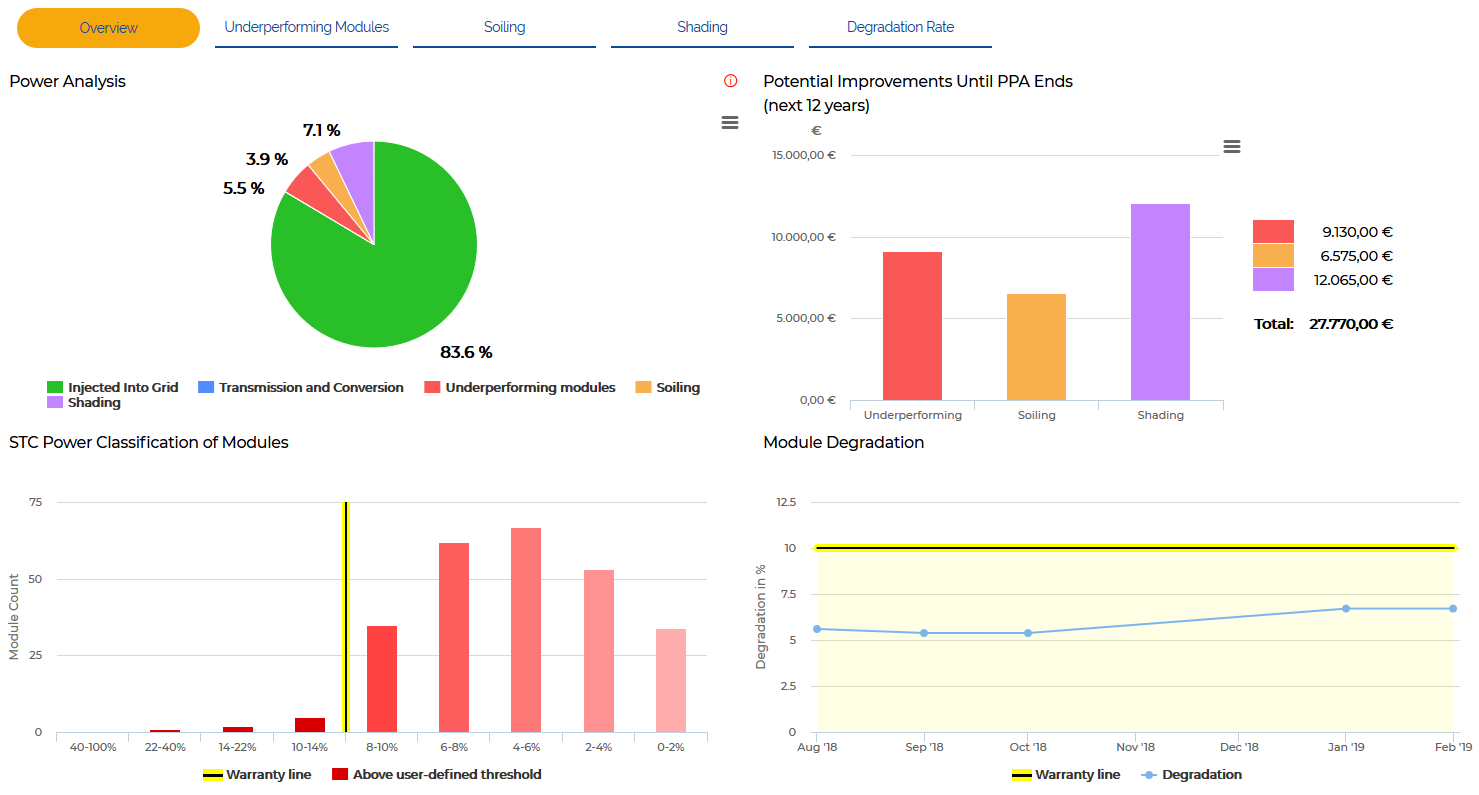 SunSniffer WebPortal KPI view:
All KPIs at a glance, with deeper information of each if needed: underperforming modules, soiled and shaded modules, and the degradation of each module.
Fault management functionalities, service and ROI calculations further provide comprehensive plant management – at the push of a button.